This free plugin allows you to perform several strategies to take your eCommerce store to the next level. This woocommerce product bundle plugin helps you to create product bundles and do much more like :
Product Bundling
Upsell Products
Cross-sell Products
Recommend Related Products
Design your own feature
Making your own clothing Pair.
1. What is Product Bundling?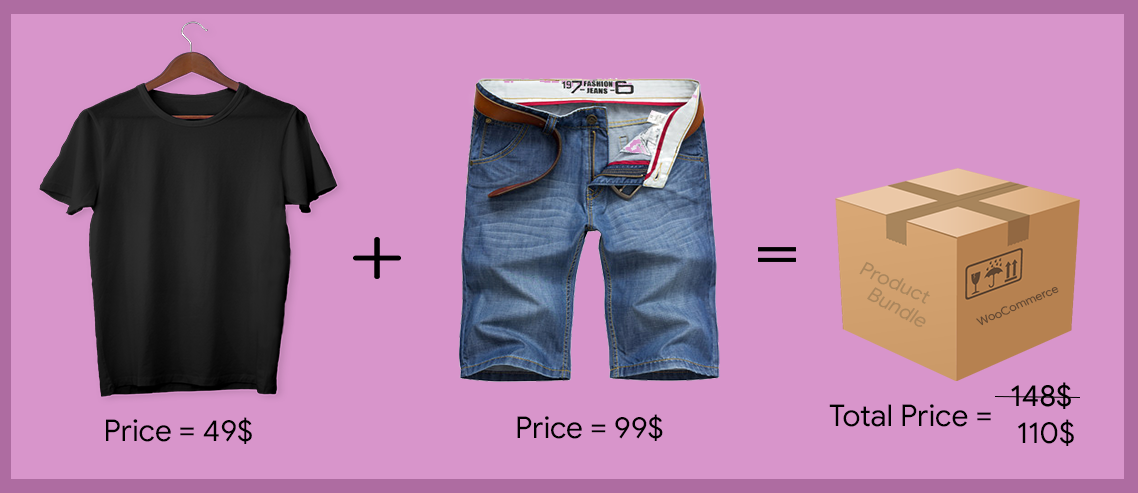 Product bundling means to group the products that are mainly bought together. The image well explains the meaning of combining products.
Advantages
Increases sales.
Increases revenue.
Seems a fair deal to the customer.
Win-Win situation for both customer and owner.
Strategy to be used for stock clearance.
2. What is upselling?

Upselling basically means to offer a larger or costlier version of what the customer is demanding. If you know what the customer is likely to purchase then you can use this tactic wisely to hike your sales. There are 50 to 70% chances that the customer will be converted.
Advantages
Bigger product is equal to bigger profits.
The customer feels to be an important part of the business.
He gets value and respect in the offline and online store as well.
If it's a quality product, he becomes satisfied.
3. What is Cross-selling?

Cross-selling means here to ask for an extra item. Mainly asking for an item that is used or consumed at the same time. Items that are loved by people to consume together. There are 5 to 20% chances that the customer will be converted.
Advantages
Increased sales with increased revenue.
The customer gets more variety.
The customer feels valued.
4. Recommending Related Products

A lot of times, you must have noticed that there are always some products linked below the products that you are reviewing. These products are recommended products, meaning that these products are suitable for the product that you are taking a look. You can also give such recommendations on. your website for free by this plugin
Advantages
Chances of the customer adding along with his product
Customer needs not to search for it individually
It saves time for customers.
Of course, increased revenue when makes a purchase.
Gives nice user experience.
5. Design your own feature

If you have an online jewelry store. You do not have unlimited stock. And it is not necessary that the customer gets attracted to the design that you have to sell. No Problem Over Here. Allow them to design their own earrings, rings, nose pin, bracelet or even necklace online from their home at their convenience.
Advantages
100% Customer Satisfaction
The customer gets the product of his own choice
Brings them comfort to design at their home
Their own design will make them happier
0 chances of losing a customer, even if you don't have a large variety
6. Make a clothing Pair

Having an online store, the customer is not able to see the cloth himself and make a pair. BUT NOW IT IS POSSIBLE. Yes, this plugin makes a customer to make his own pair of clothing. The customer can buy clothes of his choice.
Advantages
Increased chances that the customer makes a purchase
Ultimately to the increased revenue
100% Customer Satisfaction
Share this blog with your mates and leave a comment if you liked it.
Thanks for reading